To use PayPal to collect payment, first connect your PayPal merchant account to your SnapRetail account. Click here for instructions.
Drag and drop the product widget into your pageto begin editing. Any changes you make to your product will show in your page to the right.
Navigate to Product Name. Type in the name of the product.
To add or change an image, click Select Image at the top of the editor.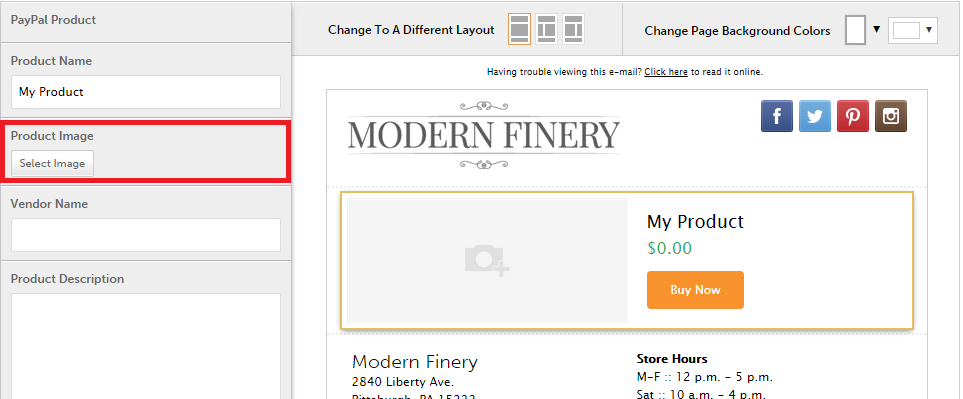 Add a vendor name or leave this field blank. 
Add a description to your product from the text box under Product Description.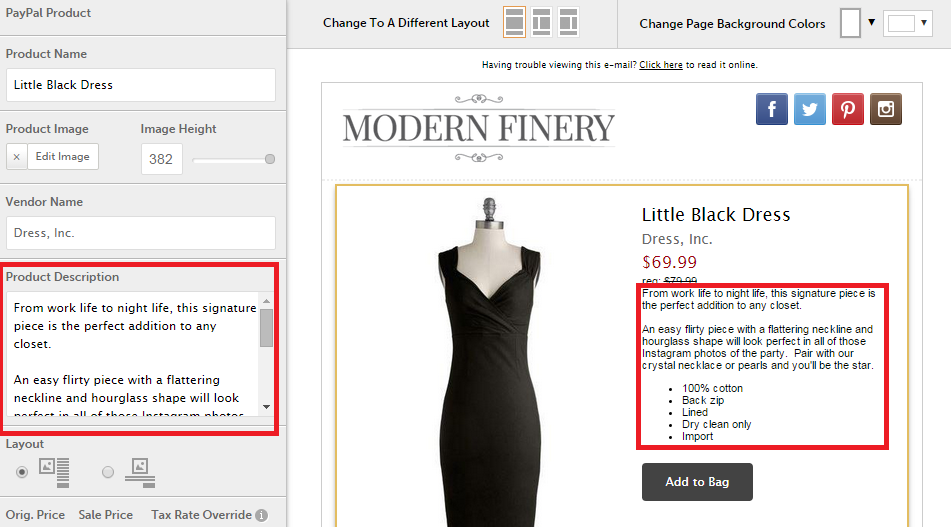 Editing tools will appear when you click in the Product Description text box.
Choose a Size from the dropdown boxes.
Link, Bold, Italicize, Underline or Justify your font from the second line of options.
Change the Font Color by selecting the font color "A" icon. Once selected choose a color or select More Colors for additional options. Add your own custom font color by entering the hex # in the text box under Selected Color. Click OK when you are finished.
Add Numbered and Bulleted Lists from the last two options in the editor.

Select a Layout to have the product details beside or below the product image.
Enter the original price of the item in the Orig. Price field.

If the item is on sale enter the sale price in that field and the Original Price will be crossed out when displayed.
Enter a tax rate override only if this product should not be taxed according to the rules you set up in PayPal. (ex: If clothing is not taxed you would enter 0 in the Tax Rate Override field).

Enter the weight of the product in the Weight field if shipping by weight. Otherwise, leave blank

Shipping details should be set up in your PayPal account.

Navigate to Button Builder
By default the button will say Buy Now. You can remove that text and add your own or leave as is.
Click on the first box to the right of the button name to change the button text font color.
Click on the second box to the right of the button name to change the button color. 
If you did not connect yourPayPal account in the My Account section you'll see the option to enter in a Product URL to an external website. 
When you are finished editing your product, click Complete to save your changes.