Drag and drop the Video widget into your email to begin editing.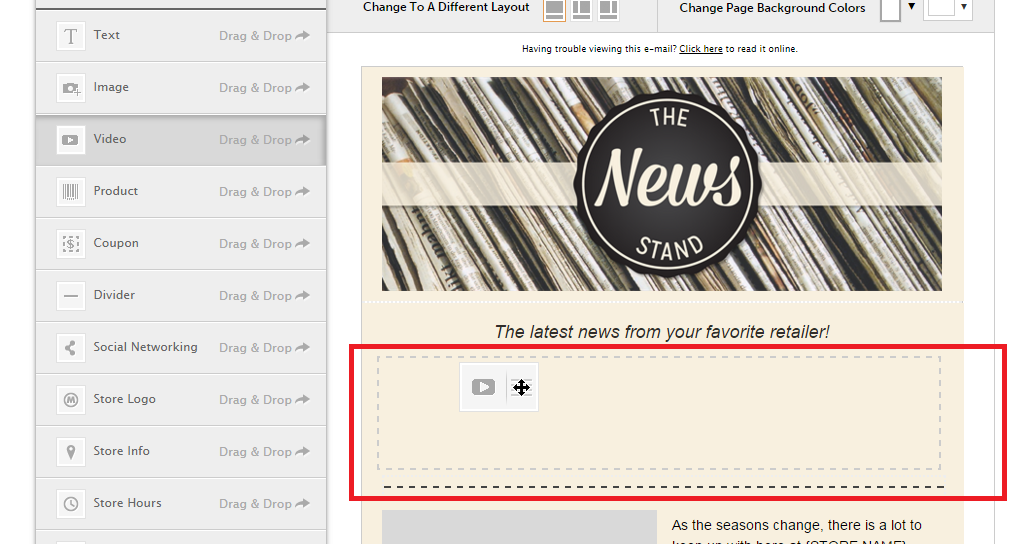 Click the blank Video widget to add your video. 
Type the URL for the location your video is hosted in the Video Link field. 
If you are using one of the four main video players (YouTube, Vine, Vimeo or Vzaar), we'll pull in the image preview for you.
If you are not using one of the four that are supported you can still paste in the URL and use your own thumbnail by clicking on the Select Custom button.
*Please note that the video must be hosted on a video sharing website; the file cannot be uploaded directly to SnapRetail.
Click in the Video Caption box to add text below the video. Click in the box to reveal the WYSIWYG editor (what you see is what you get). 
Navigate to Widget Background to change the background color of your text.
Select a color or add your own custom color by entering the hex # in the text box.
To remove the color select No Color.
Select Done to save.
Click an option under Video Ratio to select the appropriate ratio for your video.
Click Complete to finish.